Our Mission
To give free and practical health information that can help the public stay healthier and live longer.
2. To share whatever resources we have for the greater good of others.
Personal Charity Updates:
Since 2007, Doc Willie has stopped charging professional fees to all patients. He focused his expertise in treating poor communities in regular medical missions, specifically, the Pasay Volunteer Charity Health Center. His family supports his charity works.
During the 2020 pandemic, Doc Willie has given away 1,100 sacks of rice and 25000 tablets of medicines and vitamins to poor communities in the Philippines (worth Php2 million).
In December 2020, Doc Willie Ong has signed up with charity partnerships with different companies to increase his donations for the poor. In all his corporate dealings, Doc Willie made it his policy to receive no monetary compensation for his work. Hence, 100% of the company's donation goes to the poor community directly in terms of rice, medicines, food, alcohol and other essential items. In this way, Doc Willie believes that one day, he will be able to give away hundreds of millions worth of food and medicines for the poor.
This has been his lifelong dream to help and save the lives of millions of poor people using the time, talent and treasure that God has given him.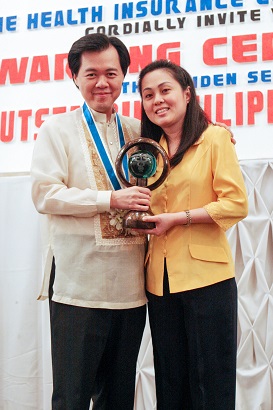 About the Author
Doctor Willie Ong (born October 24, 1963) is a Filipino cardiologist and internist known for his presence on social media.
He authored of several medical books, most notably the Medicine Blue Book. He is a columnist for The Philippine Star and Pilipino Star Ngayon. Ong also formerly served as a consultant for the Department of Health from 2010-2014.
He gives free health tips online to help a wider audience. Currently, he has one of the highest following on Facebook and YouTube in the Philippines.
Early life and education
Ong was born in Tondo, Manila. He attended Xavier School as a young boy and would later win the Xavier Award for Exemplary Alumni in 2013. After high school, he did his pre-medical course in the University of the Philippines Diliman where he graduated with a degree in Botany. Upon graduating, he went on to the De La Salle Health Science Institute for medical school.
Career
Medical Practice
Ong did his Internal Medicine Residency in Manila Doctors Hospital where he was the chief resident. After his residency, he further pursued a Cardiology fellowship in the University of the Philippines – Philippine General Hospital where he was the chief fellow. Ong also achieved the award for the highest academic performance when he did his Masters in Public Health in the University of the Philippines Manila.
Medicine Blue Book
During his clerkship year, he started writing the Medicine Blue Book which would be published in 1995, during his first year of residency. To this day, it is one of the best-selling local medical books, selling over 400,000 copies.
Co Tec Tai Medical Museum
Ong created the Co Tec Tai Medical Museum in Pasay City which is the first medical museum in the Philippines. The goal of the museum is to inspire Filipinos to become health workers and to preserve our country's medical history.
Television and Journalism
Ong gained some popularity on the television show Salamat Dok as one of their resident medical expert and volunteer doctor from 2008-2018. Apart from that, he was also a regular columnist in The Philippine Star and Pilipino Star Ngayon writing about health.
Social Media
In 2013, he started uploading health articles and videos on social media. Ong is known for his presence on social media where he shares health tips and advice. His main Facebook page is listed as the top 11 most followed page in the Philippines with 16 million followers. His YouTube channel is listed as the top 23 most subscribed channel in the Philippines with over 7 million subscribers.
Run for Senate 2019
In the 2019 midterm elections, Doc Willie Ong is the only doctor who ran against 62 other senatorial candidates. He ranked 18th in the senatorial polls, receiving over 7.6 million votes. His run for senate was considered notable due to the fact that he turned down donations from his supporters and only spent Php 581,000 on his campaign.
Personal Life
Ong is married to Anna Liza Ong, a Filipino physician as well. They were married in 1993 in Our Lady of Sorrows Parish in Pasay City. They have two daughters.